Striving for greater cultural diversity within Australian media has underpinned much of my journalism in recent years. Yet in this interview I conducted with Mumbai-born journalist Prealene, I was reminded that like everyone else, I too hold my own unconscious biases.
While I often speak about more ethnic representation in newsrooms, I tend to speak only from my lived experience and the struggles faced by many second-generation South Asian Australians as we enter an industry where we didn't see faces like ours growing up.
In interviewing Prealene, who stars in the new SBS documentary series, Meet the Neighbours, I was reminded of the often tenfold challenges faced by South Asians who migrate to Australia with the ambition of pursuing a journalism career.
Here we are. Two young brown women, both educated, ambitious, proud of our culture and passionate about reporting on issues that matter to our communities. Yet, our journeys to becoming journalists in Australia have been significantly different due to where we were born. I was born and brought up in Sydney, and have lived here my whole life. Prealene, who was born in Mumbai, India, moved to Australia at the start of 2020, just before the impacts of the COVID-19 pandemic were felt on our shores.
While we both studied at well-respected universities in major capital cities in Australia, our employment opportunities have been vastly different. Our conversation reminded me that many migrants have to relocate to regional or rural areas to get a job.
Exploring the role of migrants in regional towns, why they are often misunderstood there, and whether multiculturalism has a place in regional Australia, actually formed the basis of the three-month social experiment shown in Meet The Neighbours. In the series, a group of Australians from diverse cultural backgrounds leave their city lives behind to live in a small regional town for three months, and Prealene is one of them.
On the show, Prealene joins The Maryborough District Advertiser, the local newspaper in the regional Victorian town Maryborough, 168km northwest of Melbourne. It's believed she's the first person of colour employed by the publication. Nonetheless, it's an opportunity for Prealene, who up until then, had noticed the strict requirements by many city-based newsrooms for employees to be permanent residents or citizens.
"It was a leap of faith, but it was one of the outlets that weren't focusing on what my visa requirements are or where I stood in terms of my visa," she told me of accepting the job at The Maryborough District Advertiser. "They were just focusing on what my skills were and what I brought to the table."
Adjusting to Australian life has been a challenge from the get-go. Prealene had come from a bustling city like Mumbai to a lockdown-stricken Melbourne. Then making the move to a regional town was an even greater culture shock.
"Before going into Maryborough, I remember looking up news articles and joining Facebook groups just to see what the make-up of the town was, what they thought and what their views were. Right off the bat, I do remember feeling like I was going to stand out," she reflected.
"No one came up to me and said, 'You don't belong here'. But when you don't see anybody who looks like you, you feel that you're on your own, like, 'Have I come into the wrong town?'"
According to Prealene, being the first journalist of colour at the local paper was "not surprising". But she also explained that "there was no opportunity for that [hiring of people of colour] to happen" earlier, because of the lack of multiculturalism in the town to begin with.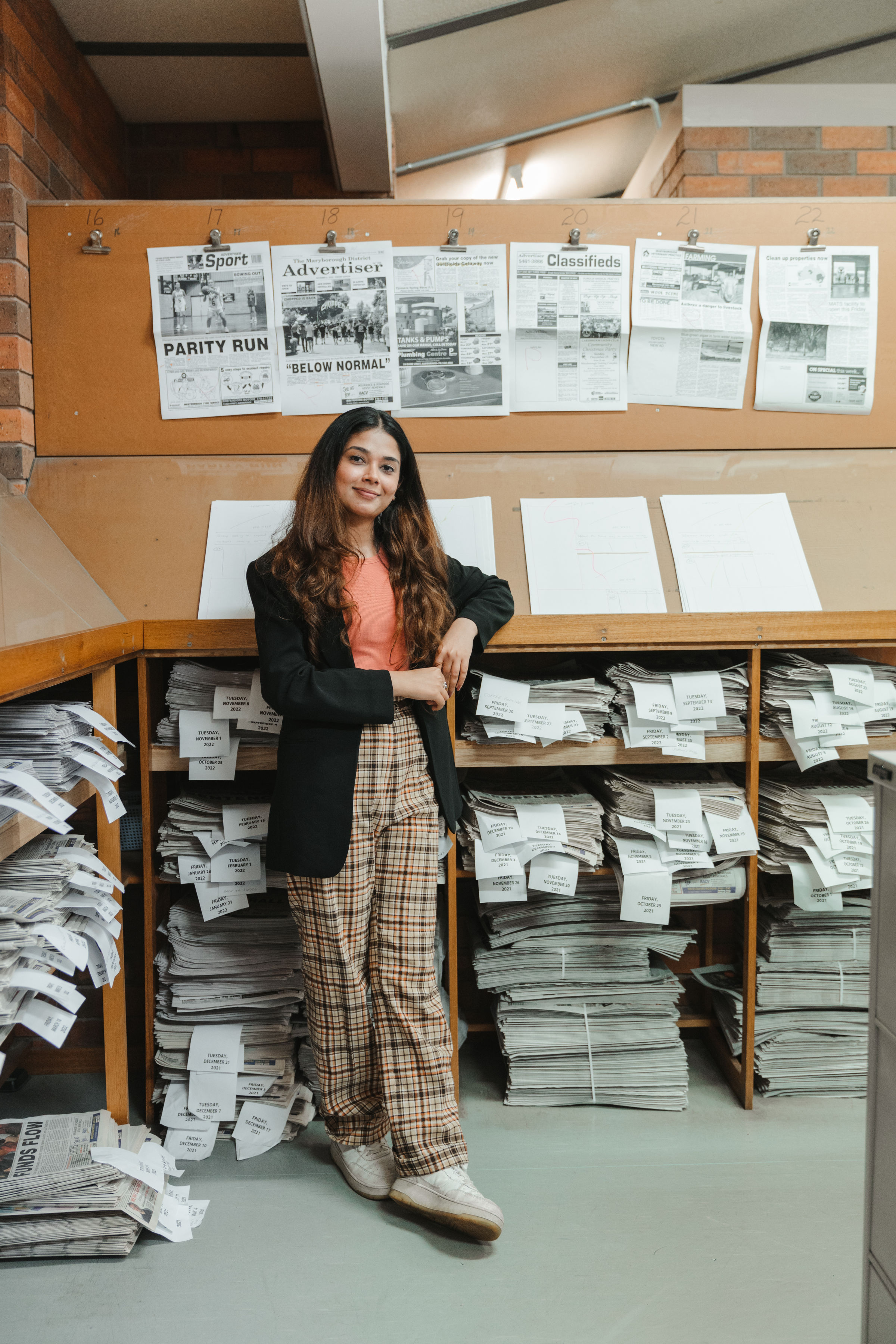 So, what happens then when you encourage culturally diverse people, especially migrants, to settle in a regional place?
In Prealene's case, the experience evoked mixed feelings. Working within a small team in a smaller town, means young journalists are often exposed to more opportunities to report on diverse issues and people.
"I loved the work part of it, it was just so great." Navigating social life on the other hand was "just so hard".
"I didn't have a social life there," she said. "I don't think that had anything to do with me being a person of colour. But it's an old town, so a lot of the activities there are geared to an older population. It's also a very sporty town. You'd have to be into footy or netball and I didn't even know netball was a thing."
Food can often play an intrinsic part in helping migrants connect with their culture and establish a sense of belonging. In Prealene's case, she didn't have access to traditional Indian ingredients that are often readily available in larger cities.
"One of the first things I did when I moved to Maryborough was I went to Woollies to see if they had an Indian shelf. They did not," she laughed. "Maybe they had a couple of things here and there like bottled butter chicken. I remember then looking up if there was an Indian restaurant, and one had recently closed.
"For me, food is such an important part of home," she continued, explaining a makeshift solution was asking her partner to bring Indian food when visiting her on weekends.
Besides cultural reminders of home such as food and family, migrants can sometimes be misunderstood in regional communities – at least, that's Prealene's assessment from her time in Maryborough.
"As to whether we're misunderstood, I think 100%. It's not something I would've felt in Melbourne," she said.
While no one made comments directly to her, Prealene heard or read about residents' sentiments that "migrants were coming in to steal jobs and opportunities away from the locals".
"In actuality, all we're trying to do is build the town up together," she said, explaining that multiculturalism can play a huge role in helping boost regional towns' economies, especially with an ageing population and younger generations leaving regional towns to move to the city.
"There's so many benefits to it, right? There's cultural diversity, they're contributing to the economy… there's no downside to that. They are skilled workers. Generally, I think migrants are so resilient, and why wouldn't you want someone like that in your team?"
We eventually circled back to talking about being South Asian women and journalists in Australia.
"Yes, I bring in a different perspective, but I literally bring in a different voice," said Prealene, referring to her accent.
"I used to think and wasn't sure how that was going to work out for me because there's that question of, 'Is an Australian audience going to accept me?'"
This made me realise that while I've long been advocating for more brown people to be seen and heard in Australian media, perhaps my privilege of being born here with a local twang, has allowed me to sometimes ignore the true breadth of diversity we can bring, and the challenges that other South Asian women face in the industry, far greater than mine. I'm grateful to have conversations with people like Prealene, so I can continue learning and evolving on what's a very different and unique personal and professional journey for all of us.
"When I had that concern [about my accent] in the back of my mind, I would just keep questioning it," said Prealene. "Again, it comes back to the same thing. Am I going to be accepted? Am I going to fit in? Do I belong here? But that made me think about what exactly I was trying to fit into. What was this mould that I was trying to fit into? What does it even mean to be Australian? It's not binary."
"I think I've stopped trying to think about whether I fit in or not, [and] I've started to use my voice as a strength," she concluded.
Whether it's in journalism or in a regional town, the immense positive value of migration and multiculturalism should not be lost on any of us.
Presented by Myf Warhust, the three-part series Meet The Neighbours premieres on SBS on Wednesday, November 1 at 7:30pm on SBS, and also available to stream on SBS On Demand in five additional languages: Simplified Chinese, Arabic, Traditional Chinese, Vietnamese, and Korean.