Lucknow: As the mild sun shone bright on a November afternoon in the fringes of the city of Lucknow in northern India, Rinky sat at the entrance of her house embroidering a dupatta with undivided attention. She looked up once as her youngest son hovered around her before continuing with the intricate chikankari work.
Rinky, who goes by one name, is among thousands of women engaged in the home-based chikankari work in India's most populous state of Uttar Pradesh. Chikankari is a specialised form of embroidery which Rinky, like most others, has picked up without any formal training.
Despite dedicating long hours, workers remain at the bottom of the supply chain battling poor wage rates, and work conditions. Missing Perspectives interviewed eight home-based chikankari who spoke about how this barely qualified as work as it did not generate a steady income. In the absence of any alternate forms of livelihood, the women continued with this work.
For the intricate work that Rinky would be putting in at least five hours of work every day, she would receive Rs 1,800 or roughly $22 on completion of her work. "If I work for long hours every day, I would be able to complete the embroidery work in four months. In my case, I will be able to complete it in around eight months. There are household chores to attend to, plus children to take care of. When your children fall sick, you would not be able to work on the embroidery. So, there is no fixed income," said Rinky, a mother of four children.
While her husband sells fruits locally to eke out a living for the family of six, Rinky uses the little money she earns to help out the family when their finances are more distressed than usual. Her total income for the entire year would not fetch her more than a paltry amount of Rs 3,700 or $45 for the three pieces that she completed.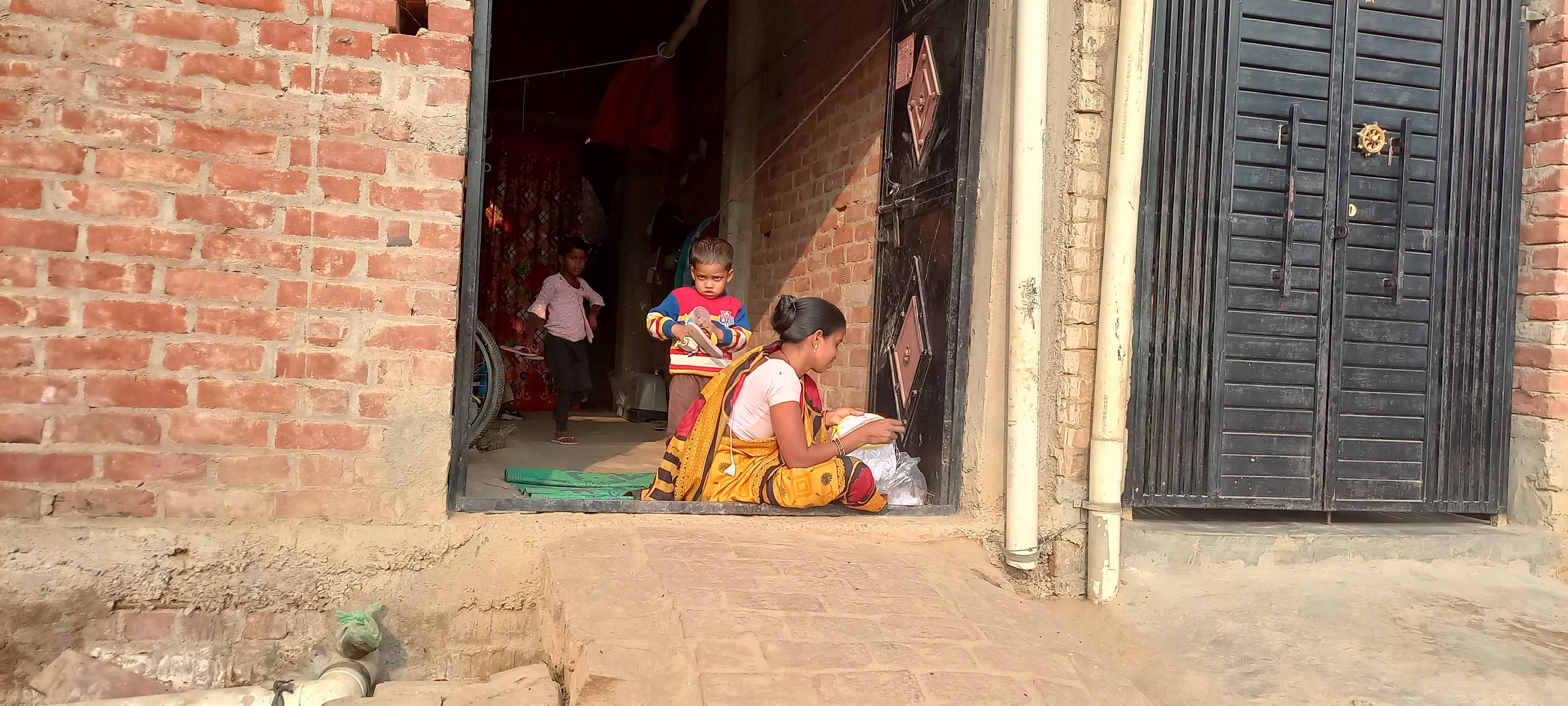 Farida Jalees, general secretary of Lucknow Mahila Sewa Trust, a nonprofit which fights for the rights of women workers engaged in the informal sector, pointed out that exploitation of workers remains rife despite the chikankari industry generating massive revenue in the state. "We have always demanded the need for a government survey of the socio-economic conditions of the chikankari workers to show the ground reality of the workers. Post-pandemic, there are conversations of a revival of the industry. But workers continue to be exploited with poor rates and work conditions," said Jalees.
Currently, there are 25,000 chikankari workers in Lucknow, and over 43,000 across Uttar Pradesh who are registered with the Self-Employed Women's Association (SEWA), Uttar Pradesh.
Over the past eight months, Mamta has managed to earn Rs 2,000 or $24 by embroidering a lehenga. But she wonders aloud how she can call this work when she cannot meet any household expenses with this amount.
"Didi (sister), please do not call this work. I cannot even buy a sari for myself with this amount of money. What is this amount anyway? You get this after you are working on a piece for months at stretch. Usually my school going daughter buys something for herself when I receive this money," said Mamta. Her husband who works as a driver supports the family.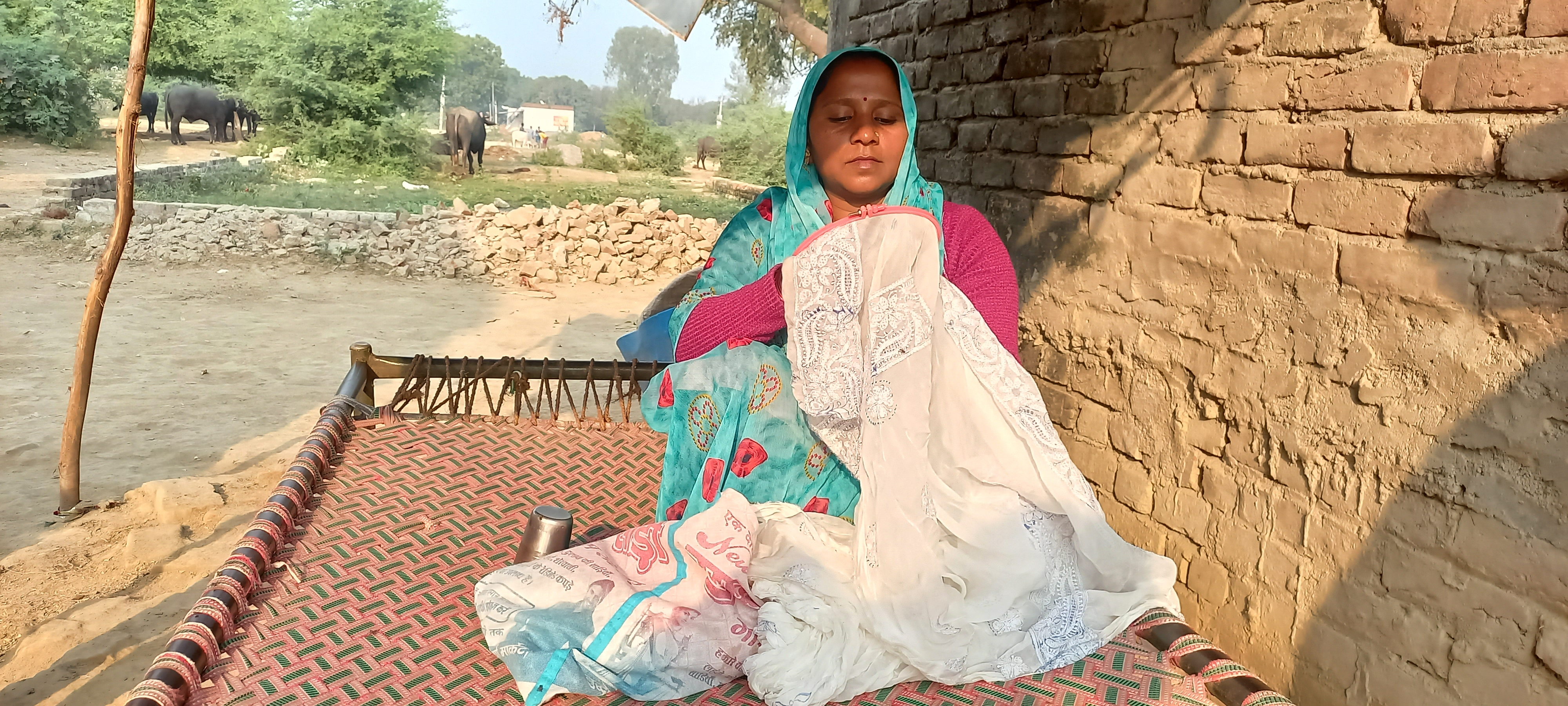 "It is such intricate work. This takes time. In an entire year, I can probably finish one or two pieces," she added in a resigned voice.
Economist Ravi Srivastava who is director at the Delhi-based Centre for Employment Studies, Institute for Human Development observed workers were paid pittance for both high-end and low-end products. "When it comes to handiwork, it is difficult to increase productivity of workers. The remuneration does not correlate with the value of what the workers produce. As a consequence, women do not see this as a gainful economic activity as their pay does not add to the household's economic activity. In the case of a home-based industry, their work environment does not change either. Hence, they do not see it as work."
Like most others, Mamta did not take any formal training in learning this specialised form of embroidery. The camaraderie among the women is palpable — they sit together and exchange notes on the progress of their embroidery work. "I have been doing this work for the past three years. I saw how it was being done and learnt it. I observed my sister-in-law do it, and picked up the work."
Vibhuti Dixit, a Lucknow-based exporter, said export sales of chikankari are dependent on the capacity of home-based women workers. The exportis yet to return to the pre-pandemic levels with companies abroad phasing out the orders which translates into a cut in the margins for the exporters. "Of course, artisans are exploited," said Dixit.
Srivastava pointed out it remains a task to organise workers to deal with subcontractors who hand them out the work. "It is a complex web of exploitation. Much of it can be easily changed by organising workers into cooperatives, so that production is structured. The states of Tamil Nadu and Andhra Pradesh have been able to achieve some of this."
As the market started opening up, and work resumed tepidly, rates were slashed. "For two years, the rate was lower per piece by Rs 50 ($0.09). We refused to work for some time. Then we realised we were without any work. So let us earn something, at least," said Rinky Yadav who has been embroidering for the past four years.
Left without any work, the women caved in to the lower rates. Eventually the rates were restored to pre-pandemic times in late 2022.
Subhanjali Yadav, project coordinator at Lucknow Mahila Sewa Trust, pointed out that as a trade union, their ask from the government is that a piece rate be fixed for the home-based workers to minimise the existing disparity between workers' wages and the rate at which the garments are sold in the market. "The piece rate should be fixed so that workers do not have to fight for the rates. We have seen from experience that a piece is sold at an increased price by 85 percent from what a worker is paid. This can go up further if it is a high-end boutique."
Sushila, 37, who has been trained by Sewa to directly bring work from suppliers to root out the middlemen whose involvement means lesser pay for workers, said wages for finished pieces remained stuck for months for chikankari workers in the area during the lockdown. For the pieces that go wrong, suppliers take away the pieces but workers bear the onus of the loss of the piece.
As Sushila's children sat out in the sun sticking glitters to bangles on their return from school which would fetch them Rs 5 ($0.06) per piece, Sushila recounted how income came to a standstill for their family of six during the COVID-19 lockdown. Her husband works as a daily wage labourer which meant he did not have work either. "I did not have any work either. The supply chain was disrupted. Shops remained shut. How would we get pieces to embroider? We would feed the children first. It did not matter if my husband or I had food. This happened multiple times during the lockdown."
'Eyes suffer, hands ache'
Fifty-year-old Ramakanti Maurya has been a chikankari worker for at least the past 25 years. If she spends more than an hour on embroidery now, she suffers from a splitting headache, and heaviness in her eyes. "This is why I can't work much. Without my glasses, I cannot work at all. I cannot see clearly with my eyes anymore."
"Earlier, I would work all day even when there was no electricity. Now there is electricity, but my body has given up." If one steadily works the entire day, the person can manage to earn Rs 700 or $8 a month.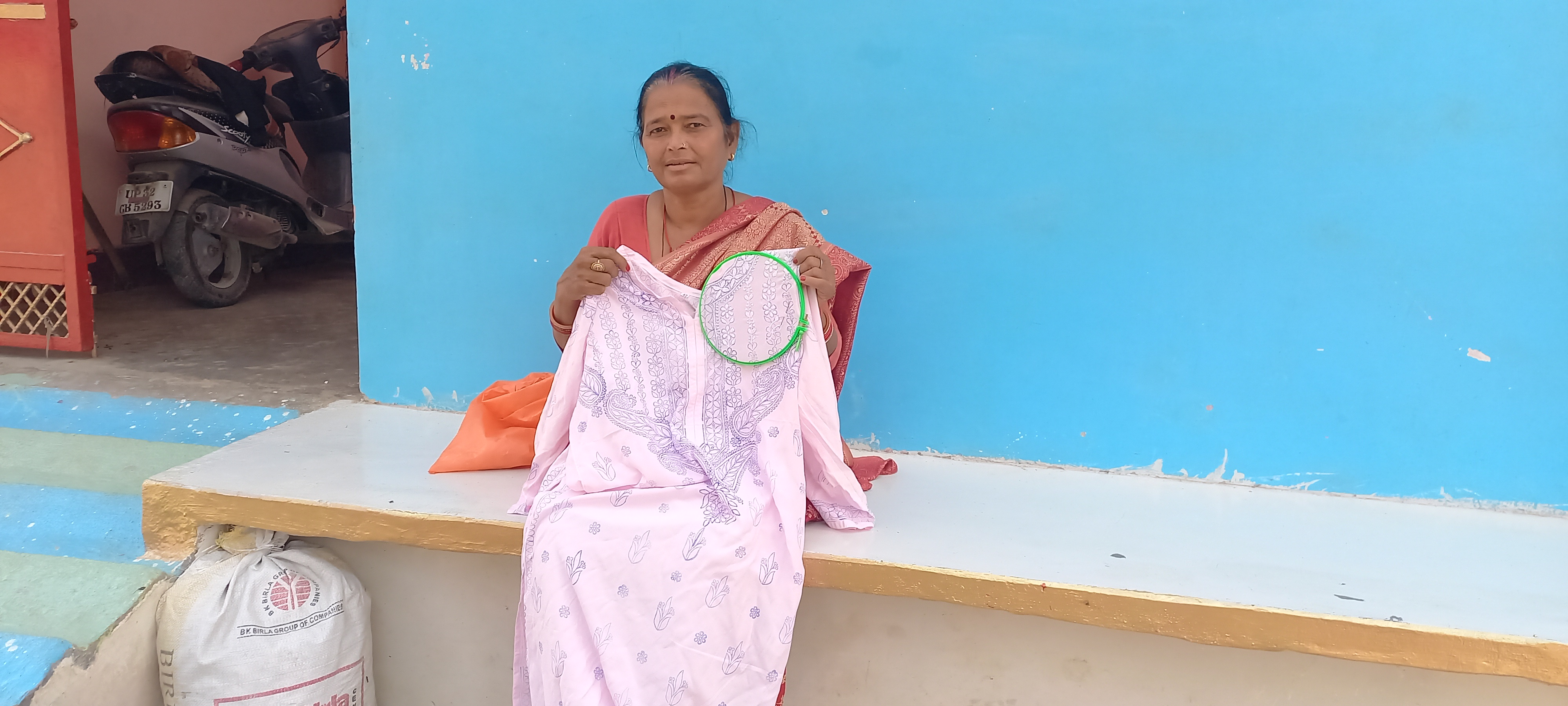 With rising prices of food, and living, Ramakanti cannot afford to buy even milk with the money she earns. Instead she relies on her husband and two sons who have migrated to Kashmir and Delhi for odd jobs. "This is not earning. This is a time pass."
Yadav said long hours mean sitting in the same position bending over the piece, and constantly using hands. This is another reason why they need to phase out their work hours. "When we work for longer durations, our hands ache."
Jalees said the union has been demanding regular medical camps for artisans. "Their eyes are affected, and they also get spondylitis. There are no social welfare benefits for artisans. We are taking advantage of the revenue generated from the work put in by artisans. But what are we doing for them instead?"
Ritwika Mitra is an independent journalist.