I first spoke with Freshta last year before Kabul fell to the Taliban. The last time we messaged on Whatsapp, it was about how her community was coping with the COVID pandemic. Finally reconnecting a year on from the take-over and total upheaval, we have a lot to discuss. At the time of this conversation taking place, she is currently in exile at Oxford University in the United Kingdom. She tells me that becoming a refugee again at 30-years-old is a jarring experience. "The next generation shouldn't face this. It means that we now need to start reimagining our future."
Freshta Karim was born two weeks before the civil war tore through her family's beloved homeland of Afghanistan in 1992. She tells me that when she was just four years old, her parents pulled up stumps and moved to Pakistan after the Taliban took over Kabul. Freshta attended school in Pakistan run by Afghans, before returning to Afghanistan to study at a local public school. She believes her public school education ignited a passion for learning and a career of working with children. "My experience of public schools has been like so many other children in my generation," she reflects. "We didn't have tables or chairs; we would just sit on the carpet and study."
Freshta emphasizes that she is bored easily; a habit that has continued as an adult. She found her typical Afghan education intellectually restrictive, reflecting on the fact that as a curious child, she was prohibited from questioning power structures at school. "You couldn't question things, you couldn't argue. It felt quite oppressive."
This natural curiosity, coupled with the sense of boredom, led Freshta to seek work from a young age. At the age of 12, Freshta emailed her local television station asking for a job. "When I went in to meet them for the first time and interview with the team, they had thought I was going to be an adult woman," she laughs. "They looked at me and were like: okay then, where is your older sister? Then they quickly realized that they would be interviewing a 12-year-old girl to work at their television station."
After a few months of working at the television station, she started producing, and then eventually running, her own show. "It was named 'Freshta ba Bozorgan' – which means 'Freshta with elders'." She quickly garnered a reputation for being a leading youth media personality, interviewing an array of Afghan celebrities and ministers. "I did the interviews for teenagers and children," she said. "I asked them about their journeys so that young children in Afghanistan could be inspired," Freshta says.
She also produced a show where she interviewed young people across Afghanistan about the complex issues they were facing (watch a snippet below). "Then, I'd go to the government officials and say you know what? These children have these problems that you need to fix," she explains. She believes that reporting on children's issues, such as the impact of poverty on education, allowed her to develop a unique sense of self-awareness from a young age.
One story sparked national attention. Freshta had chosen to air footage of a police officer assaulting a child that her team had managed to record. It quickly went viral and caught the attention of the Afghan Independent Human Rights Commission. Freshta ended up interviewing the police chief and "essentially just tried to make them accountable." It was from that moment that she decided to dedicate her life to advancing the rights of children. "Interviewing children, observing their challenges and being a voice for them, made me believe that even as a teenager I was capable of bringing slight changes and some voice to the youth," she explains.
With a hunger to expand her horizons, she studied political science and journalism at Panjab University in India, before later moving to Oxford to pursue a Master of Public Policy. She recognises that being accepted to study at an institution like Oxford was a life-altering privilege, and a time for reflecting on how to give back to her homeland. "Oxford was a bit of time for me to think about how I could put my experience to use. What can I do to help my country?" She spent a lot of time in Oxford's libraries, describing it as a form of meditation. "I felt a deep connection between me and libraries."
It was at Oxford that she developed the idea for her not-for-profit, Charmaghz (Farsi for 'four brains'). "The idea of buses turned into libraries came to me one day, and then I started researching. I found that many countries, particularly in Europe, used to have bus libraries. I realized that it wasn't a new idea - but was something that Afghanistan really needed." Now in its fourth year, Charmaghz has 16 libraries, including five bus libraries, one van library and ten mobile library boxes, and 52 staff. The mobile library buses are driven into communities across Kabul daily – including areas impacted by conflict - so that children can access books and learning opportunities. The mobile libraries provide children with a safe and creative environment, where they are supported to think critically and develop a love of reading.
Returning to Afghanistan to kick off Charmaghz's operations, Freshta negotiated with the government to rent a bus from the Afghan Ministry of Transport ("They actually have over 2,000 unused buses, so hopefully one day we can get all of them," she says). Charmaghz was formally launched on Valentine's Day in 2018. She notes that when they launched, it was an incredibly difficult time for her country, with "explosions happening all around the city. People were wanting to leave the country and there was a lot of disappointment."
Regardless of the risk, the Charmaghz team did not want the next generation of Afghan children to experience what they themselves had gone through. This is what makes Charmaghz's work so unique; it was founded by Freshta and her young team who had witnessed war and its direct impact on childhood firsthand. Freshta reflects that her childhood, like so many others, was lost before she could live it.
Charmaghz has built strong relationships with thousands of children around Kabul ("We now have children who call us from their parent's phones if we are a little late arriving in their area," she laughs). They serve approximately 2,000 children per day, and over 40,000 children a month. Since launching, Charmaghz libraries have been visited over half a million times, with more than 46% of the visitors being girls. Charmaghz now works in some of Kabul's most disadvantaged neighborhoods, including Hazara communities and urban slums, where many children are facing extreme poverty. Mobile libraries are staffed by trained librarians, who also conduct outreach activities with families focused on the importance of literacy.
Approximately 75% of Charmaghz's team is currently women, with the majority of the team between 20-24 years old. With a female dominated team, they obviously faced steep challenges when the Taliban returned to power in 2021. "My colleagues are my everyday inspiration. They are working in extremely difficult contexts, but the passion along with the commitment is what makes each one of them so unique."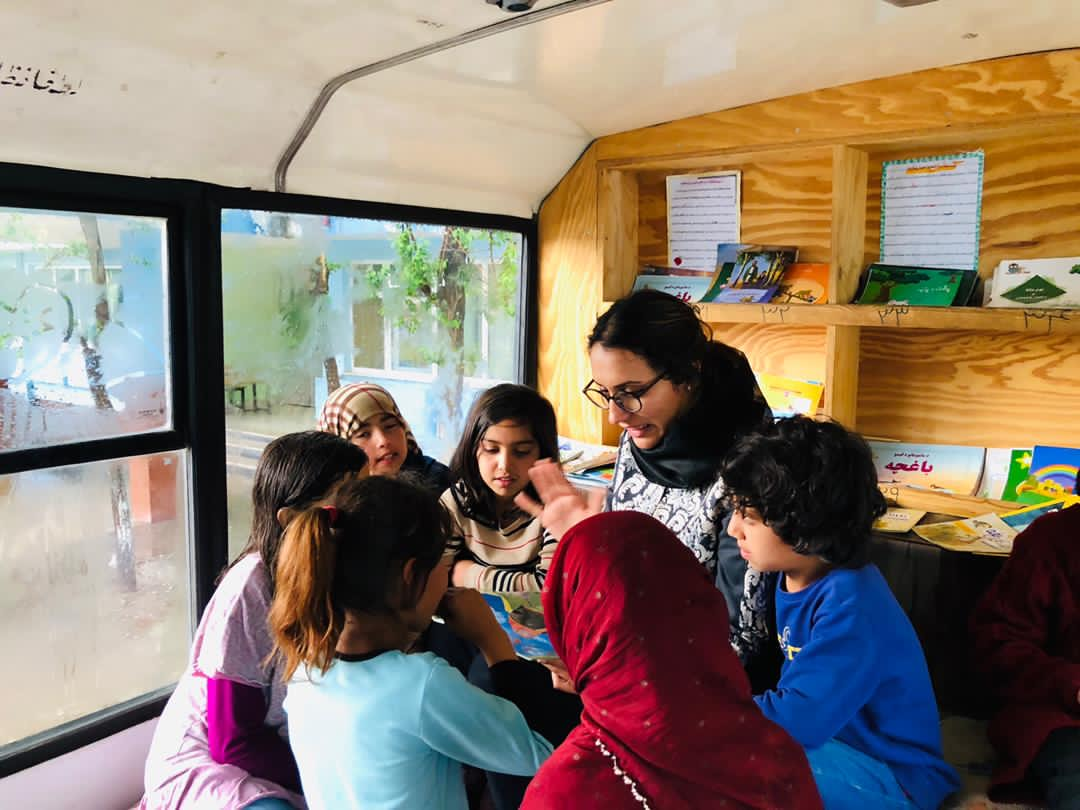 She clearly remembers having to call her colleagues when the Taliban took over Kabul. Charmaghz ceased all operations for two months in response to the developments. On the day Kabul fell to the Taliban, Freshta was on one of Charmaghz's buses reading to children. "It was around 8:30 in the morning. I was reading to children in the libraries," she recalls. "Then we heard the news, someone called us and told us. We had to tell the children to go home, and not go out. It was really bad because we knew that children were going to be the worst off and the most disadvantaged in the coming years."
A few weeks later, she sat with colleagues in a local Kabul café that they used to frequent often. "We all just sat there and thought, oh my god, what are we going to do? And that was the moment for us. It was so clear that when we sat there with sorrow, and fear, we also had commitment," she reflects. "And we knew that we had to continue whatever, whatever it took, with whatever it meant, and then somehow, we managed to open the buses again two months later after a lot of negotiation. It's clear for us that whatever bad days come, we will somehow find ways to continue our work in some way or another. We know that whatever happens, children are going to be remaining in Afghanistan, and we know that children will need our services."
Freshta made the difficult decision to leave Afghanistan and live in exile in Oxford in October 2021, two months after the Taliban's takeover. "This sense of being exiled in a way – I think I'm not the only one right now. Maybe hundreds of Afghans are feeling it, being in different places. It's quite a new phenomenon to me." She escapes the feelings of exile by seeking solace in libraries. She says she is currently reading the works of authors and writers who have experienced being exiled from their homeland. "I'm trying to understand their experience of what exile especially means. What does our life mean, and how does it change? Where do those living in exile fit in?"
So, what next? For now, she is continuing her work with Charmaghz and working as an Advisor to the Malala Fund, advising on the organization's approach to Afghanistan. She notes that she is often up at night thinking about her country's problems. "It's one of the biggest disadvantages of not having a democracy," she says. "Because you remain with all your questions and have to solve the problems. I don't sleep deeply anymore, and I think it probably comes from the fact that since there's no dialogue for me to ask any questions, to challenge them [authorities] in a logical way. I am left with all of the questions and then all of our nights we are left trying to solve them."
She remarks that at the time, people had laughed at her for graduating from Oxford and then returning to her homeland of Afghanistan to start Charmaghz. "They said, if you do an Oxford degree you should be taking a high position in government and doing bigger things," she reflects. "But the work I'm doing, at least to me, feels so big."
Donate to Charmaghz today.